Abrasive Media includes a variety of grinding, sanding, buffing and polishing media – used to finish cultured marble, solid surface, or other composites finishing applications.
---
Sanding Supplies
Sandpaper Sheets
Selection of Wet/Dry sandpaper sheets
Product Details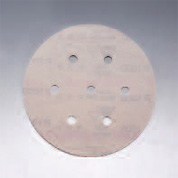 Sanding Discs
Gruber offers a variety of abrasive disk media for use in grinding, sanding, blending, buffing and polishing applications. If you don't see what you need here, please call the Customer Service Desk at (866) 260-6457 for alternatives.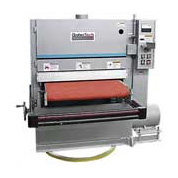 Sanding Belts
We carry sanding belts for wide panel sanders and for hand-held belt sanders.
Wide Sanding Belts
Description/Order Number
37″ x 60″, 120 grit – Ea – #SSB120
37″ x 60″, 240 grit – Ea – #SSB240
Sanding Belts
Description/Order Number
3″ x 21″, 40 grit – Box/10 – #SB321-B
15″ x 60″, 60 grit – Box/10 – #A1560B60
---
Buffing and Finishing Compounds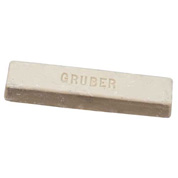 Buffing Bricks
Buffing Bricks are an all-purpose fine abrasive compound that is ideal for everything from buffing minor scuffs and scratches on mold surfaces to polishing of finished parts. Use on molds after final sanding. Product is a unique wet/sharp silica-based compound. Formulated in a dry, brick-like form, buffing bricks are sold separately in two separate box quantities, or per pound in drum. Sold individually, per box, or per pound. Quantity pricing is available – call for details.
Description/Order Number
Gruber Buffing Brick – Ea – #01015
Gruber Buffing Bricks – Ea – #010151
Gruber Buffing Bricks – Drum/lb – #010152
Buffing Bricks – for Cultured Marble
Quickly and easily removes orange peel, sandpaper marks and slight imperfections. Leaves work clean with high lustrous finish. Use on gel-coated fiberglass surfaces after final sanding to bring out luster. Available in three abrasive grades:
Mild / Medium / Sharpest
3lb bricks sold individually or in cases of 10.
Description/Order Number
WP-1, White (Mild) – Ea – #010154J
– Case – #0101545J
WP-5, Green (Medium) – Ea – #010155J
– Case – #0101555J
WP-12, Blue (Sharpest) – Ea – #010153J
– Case – #0101535J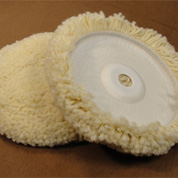 Wool Buffing Pads
Made of long-lasting heavy-duty, all wool fiber, these 8″ diameter Buffing Pads are intended for use with rotary buffers. They include a semi-rigid canvas backing. Buffing Pads come in several styles with or without hook and loop fasteners. They are available individually, or in case of 36.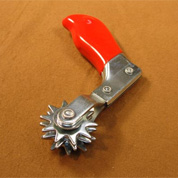 Buffing Pad Cleaning Tool
This simple tool extends the life of your buffing pads by breaking-up dried compound and removing it from the pad.
Many users recycle their cleaning pads once they are full of compound, and purchase refurbished replacement pads. This tool minimizes the amount of compound that accumulates on the pad by breaking up and removing dried compound from the pad – thus extending the life of the pad, and reducing your costs of purchasing new and/or refurbished replacement pads.
Description/Order Number
Buffing Pad Cleaning Tool – #01017
---
Grinding Supplies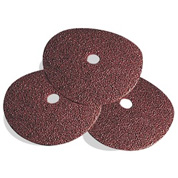 Grinding Discs
Quality grinding discs for a variety of cast polymer casting and finishing requirements.