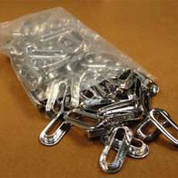 Beauty Rings (Vanity Overflow Holes)
Beauty Rings are a small decorative component that is used to surround, beautify and protect a bowl overflow hole. Rings are available in both oval and round shapes, and in a variety of finishes, including chrome, polished brass and white plastic.
---
Shower Drains and Components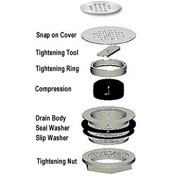 Shower Pan Drain – Chrome – Kit
This is a complete assembly consisting of the individual drain components shown in the illustration at left.
#SD103C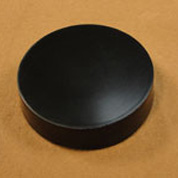 Shower Pan Drain Plug (Rubber) – Ea
#191291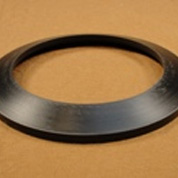 Drain Collar – Black Universal (Nylon) – Ea
#018001
Drain Collar – White Universal (polyethylene) – Ea
#01800
---
Towel Bars and Rings
Special sizes available – call for more informatioin.
Order Information
Towel Bar/Acrylic 24" L x 1" Diameter – Ea – #0001812
Towel Ring – Chrome plated – Ea – #000171
Towel Bar – Chrome plated – 24" – Ea – #000181
---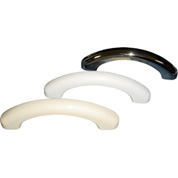 Grab Bars
Grab Bars are the sensible solution for all bathers, but particularly for the elderly, the injured, or the disabled – to help avoid accidental slippage and potential injury during bathing. Grab bars provide a feeling of security, and are a welcome addition that many bathers appreciate.