We offer three types of vibrators for use with Vibe Tables, Casting Carts, etc – anywhere you want to apply vibration during a casting process:
Pneumatic Ball Type- two types

Table Vibrators
Replacement Filler Metering Hopper Ball Vibrators for select Gruber Automation Equipment products.

Pneumatic Turbine
Electric
---
Pneumatic Ball Type Table Vibrators
Gruber Pneumatic Ball Type Vibrators (sometimes referred to as Rotary Vibrators) are used in vibrate excess air out of marble matrix after pouring. These vibrators provide high-frequency vibration at an economical price. The only moving part is a high-grade chrome steel ball. Lubrication, while not required, extends the life of the units. Other uses these vibrators are for small hoppers, parts feeders, chutes and match plates. Air consumption for these units is moderate. If the application requires more than three hours per day of operation or requires lubrication-free operation, the Turbine Vibrators may be a better choice.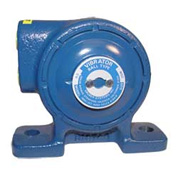 Vibrolator™ CV Series Ball Type Vibrators
These ball type vibrators are extra heavy-duty construction for operation in adverse conditions or water, heat, cold and grit. Vibration is controlled from a few cycles per minute to full speed by installation of a needle valve or pressure regulator. These vibrators assure satisfactory and efficient vibration for the toughest jobs.
See Product Details below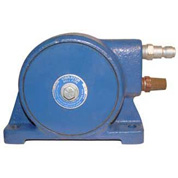 DV-41
These vibrators produce all directional vibration required for big jobs. Meets rugged requirements on extra large bins and hoppers.Both feature migratory, replaceable races.
---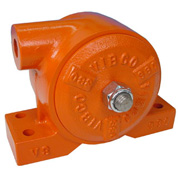 Vibco VS Series Turbine Vibrators
Turbine Vibrators Outperform Piston and Ball Vibrators
VIBCO is the originator of Silent Turbine Vibrator technology and manufactures a complete line of turbine vibrators for industrial and construction use. VIBCO's Silent Turbine Vibrators are an ideal solution. They save air, are more efficient, don't require lubrication, and have virtually silent operation. A turbine vibrator will typically outlast a ball vibrator 3 to 1.
With foolproof operation and low noise, Silent Turbine Vibrators have quickly become the specified and standard units for many industries. Some typical applications include parts feeding, batchers, hoppers, chutes, packaging, foundry match-plates, shake-outs and sand hoppers, screens, and wherever parts or material hangs.
Description/Order Number
VS-320 Vibrator – #VS-320
VS-380 Vibrator – #VS-380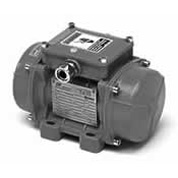 Industrial Electric Vibrator
Replacement Vibrator Bushings
These and other Vibe Table Bushings and Table Vibrator spare parts are available.
Bushing for new style Pneumatic Vibe Table (with tube frames).
Black Vibe Bushings Electric
Kit Stepped Vibe Bushing
Product Details