We offer a variety of raw materials for use by cultured marble and solid surface manufacturers.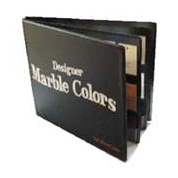 Marble Designer Color Pigments
Marshall-Gruber offers high quality Brocom Designer Marble color pigments, specifically designed for use with cultured marble and solid surface applications.
BroCom's key technical people have over fifty years experience in blending and formulating pigments for plastic resin compounds. They are specialists in manufacturing dry powder colors for Cultured Marble and Brocom has produced millions of pounds of dry pigment for that one application alone. Brocom starts with the best raw pigments available, and they test them constantly for heat and light stability, toxicity and purity. Brocom's pigments are prepackaged in airtight, factory sealed, five pound and one pound cartons. Brocom does not use lead pigments.
Engineered specifically for cultured marble and solid surface
Formulated so they can be stored almost indefinitely
Custom color matching is available at no charge
Ready to use – no formulating or adjusting
Produced without toxic pigments such as lead and cadmium
Factory sealed in 5 lb boxes
Call for other sizes or colors
Downloads