Standard Cure Adhesive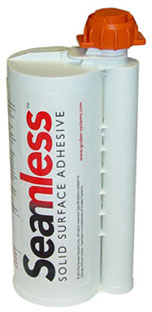 Seamless™ Adhesive is a specially formulated, two-part 10:1 ratio solid surface seam adhesive, featuring a working time of 10-15 minutes and can be sanded and finished within an hour. Seamless Adhesive is laboratory color matched to solid surface materials from 25 different solid surface material suppliers to ensure you receive an accurate, compatible color for your needs.
Seamless Adhesive is available in a variety of packaging sizes:
75 gram bags (for spot repairs or about a 48″ linear inch seam per 75 gram bag)
250 ml cartridge – for regular use
1 gallon or 5 gallon pails – for heavy volume usage
(Note: requires Activator as well)
Accurately match the right Seamless color to your brand of solid surface material!
Seamless adhesives are subject to stringent laboratory color matching with all major solid surface manufacturers' materials. To accurately determine the right Seamless color for your particular solid surface material, refer to the color matching guides for each manufacturer listed below:
Seamless Colors
Seamless™ Adhesive is offered in a variety of colors to assist the fabricator in matching a wide range of manufacturers materials, and in creating virtually invisible seams that will last for years.
Note: Colors shown on a website do not always accurately represent the true color of a material. Do not rely on this for accurate color matches. If you want precise color matches, then please review the Color Compatibility Listing for each solid surface sheet manufacturer.
* May not always be stocked and ready for immediate shipment. Call if required immediately. All Seamless adhesive products are sold individually, although they are packaged from the factory in boxes of 10 units. We will break boxes to sell any number you wish to purchase.
---
Important Shipping Information
Seamless Adhesives, and other flammable materials are subject to additional shipping fees when expedited via any air shipment due to regulatory requirements. To avoid these additional significant costs, make all attempts to request shipping via UPS Ground. For more information, contact us at (866) 260-6457.
---
Applicator Guns & Mixing Tips
Seamless™ Adhesives may be applied manually or with automated equipment. Automated application may be accomplished with a variety of 10:1 meter mix dispensers delivering both components to a static mixer. Pre-measured cartridges are also available, as well as the hand-held guns with which to dispense the adhesive. To assure maximum bond strength, surfaces must be mated within the specified working time. Use sufficient material to ensure the joint is completely filled when parts are mated and clamped. All adhesive application, part positioning, and fixturing should occur before the working time of the mix has expired. After indicated working time, parts must remain undisturbed until the fixture time is reached.
---
Adhesive Applicator (Handguns)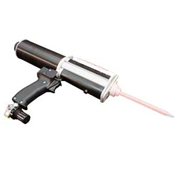 Pneumatic Handgun
For 250 ml 10:1 cartridges
Order No. SS001-2P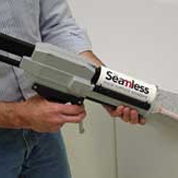 Manual Handgun
For 250 ml 10:1 cartridges
Our most popular manual handgun for use with 250 ml cartridges.
Order No. SS001-2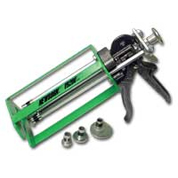 Newborn Manual Handgun
For 250 ml cartridges
Durable – all metal construction. Dispense material using 1:1. 2:1, 4:1 and 10:1 ratios. Most affordable gun option.
Order No. SS005-N
Limited availability – call before ordering.
---
Replacement Plunger for 250 ml Manual Handguns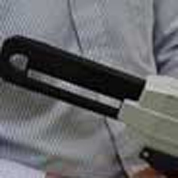 For 250 ml cartridges and 250 ml Manual Handgun Applicator
Sold individually. Order No. SS001-3
---
Static Mixer Adhesive Dispensing Tips
Static mixer tips attach to Seamless cartridges to dispense the material. Sold individually or in cases. Quantity discounts apply for case quantities – CALL.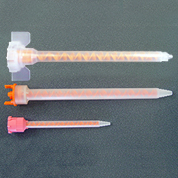 Top
New Mixer Tip – for Seamless Cartridges purchased after November 15, 2012.
New Mixer tip for 250 ml Cartridge – Order No. – SS250-T
Middle
Previous "New Style" Mixer tip for 250 ml Cartridge – Order No. SS250-S
Currently used with Corian's cartridges.
Bottom
Mixer tip for 50 ml cartridge – Order No. – SS050-S
---
Activator
Bulk quantities of Activator are available for use with bulk quantities of Seamless Adhesive. Seamless Adhesive is available in 1 Gallon or 5 Gallon pails. Activator should be mixed with Adhesive in a 1:10 ratio – 1 part Activator for every 10 parts Adhesive.
New Activator – for use with all bulk (1 and 5 gallon) Seamless Adhesive purchased after November 15, 2012.
Since Activator is mixed with the bulk Seamless at a 1:10 ratio to adhesive, you should purchase 1 part Activator for every 10 parts Adhesive.
1/2 Gallon – enough to mix with 5 gallons of Seamless Adhesive. Order No. – CALL
1 Gallon – enough to mix with 10 gallons of Seamless Adhesive. Order No. – CALL