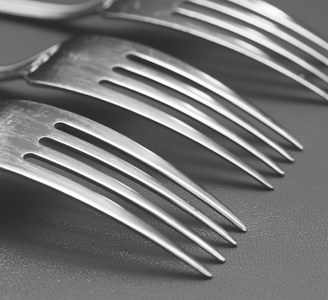 Abrasive Grain – Calcined Alumina
Calcined Alumina is used extensively for a wide variety of cleaning, polishing, and deburring applications because of its unique crystal structure. It is the most widely used abrasive, generally used for ferrous alloys, non-ferrous, and thermoset plastics. Its particles are made up of many smaller crystals that extend the abrasive and polishing action.
A range of grades is offered based on abrasive properties and particles sizes with quality control that assures consistency of abrasiveness for each shipment. A cost effective GB (green line) grade produced with recycled content is also available.
B-25  Mild abrasive. Cost competitive. Good for tumbling.
B-75  High quality color grain intended for the high luster on stainless steel, non-ferrous and plastic products.
B-505  Widely used for properties that are unique. Excellent for flatware, cookware and small appliances.
B-800  High cut but still maintains color properties.
GB-50  Gives color but mostly intended for a mild cut.