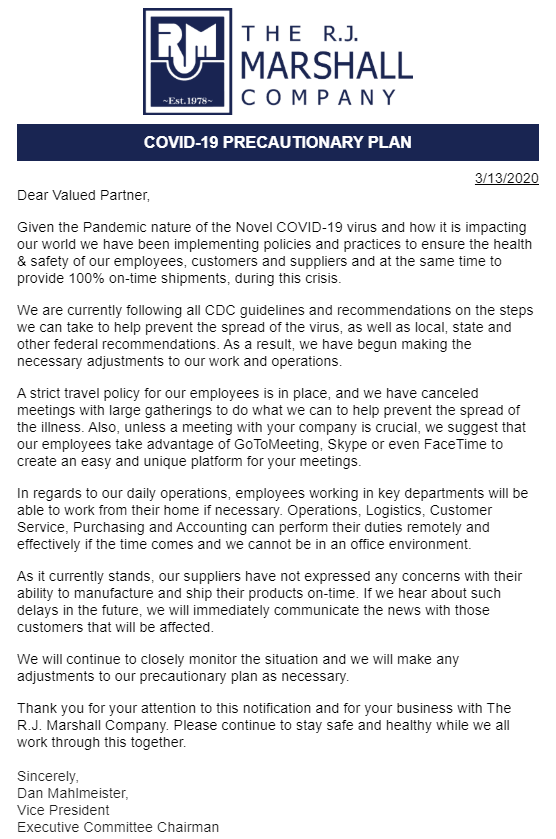 ---
3/13/2020
Dear Valued Partner,
Given the Pandemic nature of the Novel COVID-19 virus and how it is impacting our world we have been implementing policies and practices to ensure the health & safety of our employees, customers and suppliers and at the same time to provide 100% on-time shipments, during this crisis.
We are currently following all CDC guidelines and recommendations on the steps we can take to help prevent the spread of the virus, as well as local, state and other federal recommendations. As a result, we have begun making the necessary adjustments to our work and operations.
A strict travel policy for our employees is in place, and we have canceled meetings with large gatherings to do what we can to help prevent the spread of the illness. Also, unless a meeting with your company is crucial, we suggest that our employees take advantage of GoToMeeting, Skype or even FaceTime to create an easy and unique platform for your meetings.
In regards to our daily operations, employees working in key departments will be able to work from their home if necessary. Operations, Logistics, Customer Service, Purchasing and Accounting can perform their duties remotely and effectively if the time comes and we cannot be in an office environment.
As it currently stands, our suppliers have not expressed any concerns with their ability to manufacture and ship their products on-time. If we hear about such delays in the future, we will immediately communicate the news with those customers that will be affected.
We will continue to closely monitor the situation and we will make any adjustments to our precautionary plan as necessary.
Thank you for your attention to this notification and for your business with The R.J. Marshall Company. Please continue to stay safe and healthy while we all work through this together.
Sincerely,
Dan Mahlmeister,
Vice President
Executive Committee Chairman