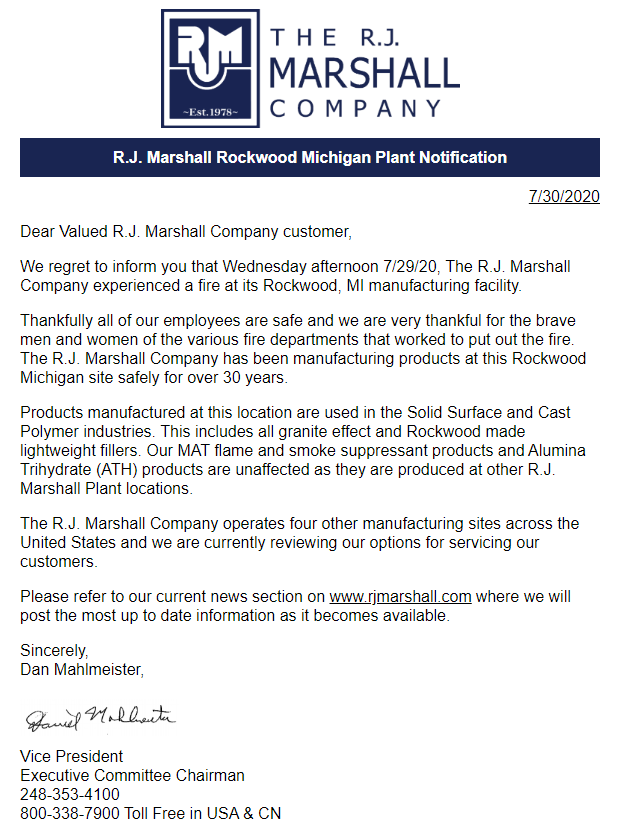 ---
7/30/2020
Dear Valued R.J. Marshall Company Customer:
We regret to inform you that Wednesday afternoon 7/29/20, The R.J. Marshall Company experienced a fire at its Rockwood, MI manufacturing facility.
Thankfully all of our employees are safe and we are very thankful for the brave men and women of the various fire departments that worked to put out the fire. The R.J. Marshall Company has been manufacturing products at this Rockwood Michigan site safely for over 30 years.
Products manufactured at this location are used in the Solid Surface and Cast Polymer industries. This includes all granite effect and Rockwood made lightweight fillers. Our MAT flame and smoke suppressant products and Alumina Trihydrate (ATH) products are unaffected as they are produced at other R.J. Marshall Plant locations.
The R.J. Marshall Company operates four other manufacturing sites across the United States and we are currently reviewing our options for servicing our customers.
Please refer to this current news section where we will post the most up to date information as it becomes available.
Sincerely,
Daniel Mahlmeister
Vice President
Executive Committee Chairman
The R.J. Marshall Company
248-353-4100
800-338-7900 Toll Free in USA & CN