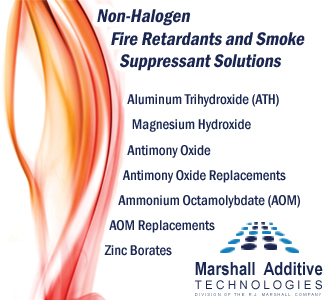 Flame Retardant & Smoke Suppressant Products
Marshall Additive Technologies (MAT), part of The RJ Marshall Company, is the premier supplier of antimony oxide replacement flame retardant synergist products and is the leading expert in this type of technology.
The MAT antimony replacement products include economic alternatives to antimony oxide in PVC systems.
MAT can also supply all of your smoke suppressant needs. MAT products include molybdate products and low cost molybdate replacement products.
Click on product for technical data sheets
Flame Retardant Synergists for Halogen FR Systems
Smoke Suppressant Products for PVC
Aluminum Trihydroxide (ATH) Products
Natural Magnesium Hydroxide Products
Zinc-containing FR and SS Products
MAT continues to develop new products for FR synergist and smoke suppressant market applications.
When your development project starts, contact the RJM MAT technical team for help in selecting just the right product for your needs or to suit your customer's application.
- Meet the Tech Team - Contact us to discuss your specific needs.