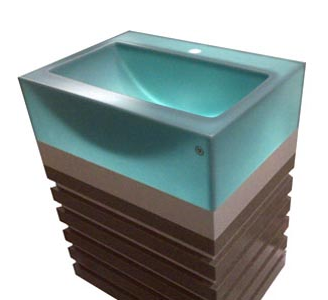 Illuminated Color Effect
This translucent filler gives you the look of frosted glass with the properties of solid surface at an affordable price. When combined with backlight, they impart a dramatic, illuminated effect. ICE can be manufactured as a solid surface or can be poured behind a gelcoat in a cultured marble application.
Equipment
The basic equipment needed for the solid surface manufacturing includes a vacuum mixer or continuous casting machine with a densifier, appropriate molds, table sander, and necessary saws and routers. For gravity cast manufacturing, a mixer and molds are needed. (For additional information, please see our paper entitled "Solid Surface Manufacturing")
Color Gallery – click to enlarge
Colors are representative and may vary.
Final product determination must be based on using the material in your process.
Fabricating
Please be aware that, due to translucent nature of ICE, supports, under-mount sink flanges, and dabs of silicone will show through your finished parts. When ICE is laminated together for a thicker appearance, such as in a drop-edge or seam block, the laminated areas will appear darker due to reduced light transmission. These natural effects, however, can be worked into your design schemes for a unique aesthetic appearance.