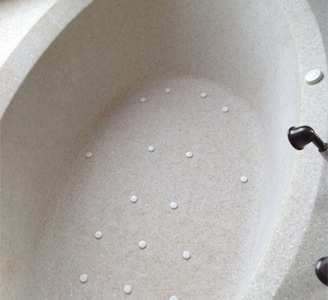 Stone Ridge Spray Granite Extreme
Get the large aggregate look of engineered stone or natural granite with Stone Ridge Spray Granite Extreme (SGE) Series. SGE is shipped as a non hazardous, non flammable material and will last indefinitely if properly stored.
Features
♦ 21 "large chip" colors
♦ Outstanding coverage
♦ Less shrinkage then thermoplastic granule products
♦ Superior bonding with you quality gelcoat system
♦ The ability to mix only what you need when you need it
♦ Extraordinary cost savings compared to "wet" ready to spray systems
Color Gallery – click to enlarge
Colors are representative and may vary.
Final product determination must be based on using the material in your process.
* Indicates use of reflective additives.
Equipment
Spray Granites can be effectively sprayed from a cup gun, hopper gun, pressure pot, granite spray system or a dry hopper system. We recommend using a #9 nozzle (9/32 inch orifice).
Spraying Technique & Overflows:
Spray using multiple cross directional passes to ensure an even build-up and apply a total film thickness to 40- 50 mils wet or until the mold is covered to opacity. Avoid excess material build up in corner radiuses. Spraying under the overflows is particularly difficult. Make sure that extra care is taken to get good coverage in that area.
Downloads

 High Res Swatches
For use on your own website and brochures.