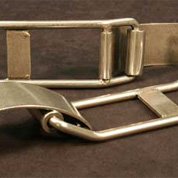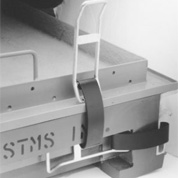 Heavy-Duty Gee Mold Clamps (aka G Clamp)
Gee Clamps are an extremely durable, reusable clamp that holds the backsplash door in placed during the casting process. Included as standard equipment with all Gruber Systems cove-back molds. They are also used to secure bathtub females and shower pan insert molds. Heavy duty Gee Clamps are compatible with all Gruber Systems tubs, shower bases, and modular and custom vanity molds.
They deliver 25% more clamping force due to the stronger and wider spacing. At 1/2″ deflection, the new "Gee" Clamp generates 375 lbs of pressure pre inch. The Gee Clamp is larger, for added strength and handling ease. They are easier to apply and to remove due to the longer handle, for added leverage. Affordable Gee Clamps are roughly half the price of a standard "C" Clamp!
Order Information
Gee Clamps – Ea – #103615