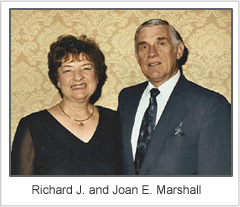 The R.J. Marshall Company was founded by Richard J. and Joan E. Marshall in May of 1978. Originally conceived as a manufacturer representative company, R.J. Marshall sold commodity grade industrial raw materials. Soon, they found a way to offer a solution to the inconsistent quality of materials drawn from individual mines: a better way to achieve the best possible properties from batch to batch. This kind of consistency and quality has been the hallmark of the R.J. Marshall reputation even today.
Offering a broad base of products to both the cast polymer and composites markets as well as the wire and cable industry, R.J. Marshall with its flame retardant and smoke suppressant division; Marshall Additive Technologies, and its subsidiary; Marshall Gruber Company, can service a full range of solutions to manufacturers for a variety of applications.
For more information about available products for your needs, please see our Products & Applications page.
Corporate Brochure
---
About Us
Our Vision
To be a world leader providing specialty, industrial raw materials and manufacturing supplies; being directed by our core values, quality policy and focused on our mission.
Our Mission
At The R.J. Marshall Company we seek to make our customers successful by supplying innovative, quality focused products and services. We serve our customer's needs with perseverance and create an environment where our customers, employees and suppliers are highly valued.
Commitment to Quality
The R.J. Marshall Company quality policy is to achieve customer satisfaction by assuring that each product delivered or service provided will consistently meet or exceed the established standards. As part of our dedication to quality, The R.J. Marshall Company will:
Develop and nurture an environment conducive to the highest standards of quality,
commitment and continuous improvement.
Partner with and monitor our vendors and suppliers to obtain the most consistent and
highest quality materials and services.
Use statistical methods to understand and manage the actions of our total organization.
Dedicate ourselves to continuous improvement in all activities of our business.
Continually strive to develop our employees through training and education.
Quality will be achieved through prevention of defects rather than detection.
Our Core Values
The R.J. Marshall Company was founded in 1978 and stands as a reminder of the business principles:
Integrity – to maintain the highest ethical standards.
Honesty – to be honorable and trustworthy, to always do the right thing.
Respect – to show regard for worth, honor and esteem for our employees, customers and suppliers.
Perseverance – to have a passion for excellence and a resolve for continuous improvement.
Knowledge – to be lifetime learners and provide a continual learning environment empowering
our employees to solve problems.
Forgiveness – to create an environment of trust where people are allowed to fail.
Fairness – to treat all people in a just and equitable manner.
Teamwork – to work together with mutual respect and courtesy realizing we can achieve
more by working together.
Competence – to do it right the first time by making smart, quick, common sense decisions.
Family – to recognize and support the family and maintain a family atmosphere.
---
RJM Locations
Michigan

Headquarters
26776 W. 12 Mile Road
Southfield, MI 48034
P: 248-353-4100
F: 248-948-6460
Toll Free: 800-338-7900
Customer Service:
Toll Free PH: 888-514-8600
Toll Free Fax: 877-717-5577

Erie, Michigan
Products:
Flame Retardant Products
Onyx Fill, Dense Fill
Ground Bayer Hydrate

Rockwood, Michigan
Products:
Granule Manufacturing
Granite Effect
Lightweight Fillers
Spraylite
Buffing & Polishing
Alabama

Alpine, Alabama
Products:
Ground Bayer Hydrates
Granite Effect
Lightweight Fillers
California

Valley Springs, California
Products:
Lightweight Fillers
Spraylite
Gypsum
Bayer Ground Hydrates
West Coast Distribution
of all RJM Products
---
Marshall Gruber Location
Texas

Mansfield, Texas
Manufacturing & Distribution
P: 682-422-9674
F: 682-518-9762
Customer Service:
Toll Free: 866-260-6457
---
Export
The R.J. Marshall Company exports its products all across the world. Call or email Customer Care for more information.