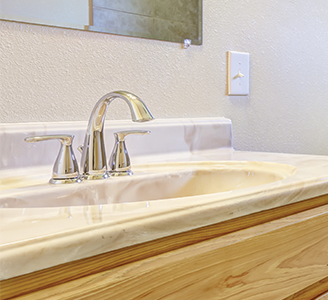 Marfill 40 & Marfill 45
The superior performance of Marfill 40 and Marfill 45 ground calcium carbonate is derived from the combination of sieve and sub-sieve sized particles in controlled proportions. This provides a consistent, quality marble filler with a warm white hue that results in a beautiful finished product. Marfill 40 and Marfill 45 were specifically developed for high filler loading applications. Its higher filler capabilities were designed for improved cost/quality performances in cast polymer/cultured marble.
In-stock and available in 50lb paper bags and/or bulk bags from multiple shipping locations. Marfill products offer many advantages, including:
♦ High Filler / Low Resin Demand    ♦ Good Dry Flow for Auto-casting Operations    ♦ Low Free Moisture    ♦ Low Black Specks
Marblemite
Marblemite is a calcium carbonate filler specifically designed for use in cultured marble. It comes ready to use with the proper combination of coarse and fine particles. The grinding process is controlled to create a distribution of particles that is most beneficial for cultured marble production.
Marblemite is the premier dry ground white marble for the cultured marble industry. Marblemite is the preferred choice of those manufacturing the highest quality cultured marble products. Special precautions are taken during the processing of Marblemite to ensure that a minimal number of "blacks specks" will be seen in the finished cultured marble pieces. What is different about Marblemite? Marblemite is not merely a repeat of one-bag fillers that have been tried before, and it is not a blend. Marblemite is crushed and ground directly to the correct distribution of particles for maximum effectiveness in cultured marble recipes.
Mar'Blend 50
Mar'Blend 50 is specially blended to yield an optimized combination of coarse and medium particle sizes to ensure low resin demand for cultured marble applications. "Black Specks" are controlled through a special benefication process.