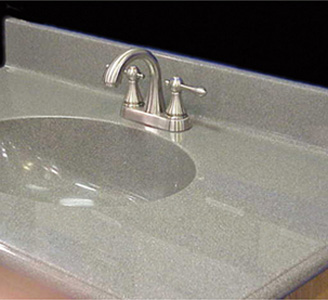 Spray Granite Advantage
Spray Granite Advantage (SGA, SGL & SGE) dry filler system is an economical alternative to solid surface and cultured granite castings. It is designed to be mixed into a clear gelcoat and sprayed behind a clear gelcoat or against the mold as the primary wear surface. Spray Granite Advantage can be used in cast polymer and fiberglass reinforced plastic products. It is made from the highest UV stable thermoset polyester resin and ATH fillers available.
Spray Granite Advantage ships as a non-hazardous and non-flammable material.
Features / Benefits
♦ Outstanding coverage and hide properties     ♦ Less shrinkage than thermal plastic granule products
♦ Superior bonding with your quality gelcoat system     ♦ Superior hardness, stain resistance and thermal shock performance
♦ Easier sanding and less finishing time as compared to thermal plastic granule products
♦ The ability to mix only what you need when you need it (mix today, spray today)
♦ Extraordinary cost savings when compared to other "wet" ready-to-spray products
♦ Will last indefinitely if properly stored
Color Gallery – click to enlarge
3 NEW COLORS – FEBRUARY 2016!
(ARCADIA SGE 222, EMPIRE SGE 285 & SEQUOIA SGE 306)
StoneRidge Spray Granite Extreme Series Page
Colors are representative and may vary.
Final product determination must be based on using the material in your process.
* Indicates use of reflective additives.
Equipment
Spray Granites can be effectively sprayed from a cup gun, hopper gun, pressure pot, granite spray system or a dry hopper system. We recommend using a #9 nozzle (9/32 inch orifice).